Discover more from Fintech Blueprint 🤖🏦🧭
The Fintech Blueprint helps you find and build the next Fintech & DeFi unicorn with unbiased and expert insights on financial innovation. Join venture capitalists, entrepreneurs, and executives by signing up below.
Over 83,000 subscribers
$20 Billion TSYS acquisition in the shadow of Alibaba's $500B SME aggregation, plus 14 short takes on top developments
Hi Fintech futurists --
Today, a longer take on the groundbreaking consolidation in the payment processing space, and why these "massive" companies are a mere fraction of value created by SME platforms like Alibaba. I found the statistics around economy composition, and the ideas about aggregation of demand vs supply to be thought-provoking. The latest short takes on the Fintech bundles, Crypto and Blockchain, Artificial Intelligence, and Augmented and Virtual Reality are below.
Thanks for reading and let me know your thoughts by email or in the comments!
---
Long Take
I have been reading Alibaba: The House that Jack Ma Built this week, something everyone interested in understanding the future of Google, Goldman, Uber, or Amazon should do. The narrative starts with China's small business explosion, and Ma's genius is to tap into global demand for the products of those businesses through an online marketplace and associated financial services. But I am getting ahead of myself. Let's pause to acknowledge a massive, systemic transaction that was announced this week: payments processing company Global Payments acquiring TSYS (Total Payments Systems) for $21.5 billion.
The consolidation in the payments industry is happening all at once, with FIS buying Worldpay for $35 billion and Fiserv grabbing First Data for $22 billion. We are looking at nearly $80 billion of payments and banking system acquisition value. Why is this all happening? As digitization costs fall and technology become more freely available, and data more transparent, pricing pressure causes profitability to fall. The strategic response to smaller unit economics is to get bigger, shed fixed costs, and try to monopolize the industry. Payments processing is a commodity, and the brands providing the services have negative equity (i.e., people don't like them).
But if you look one layer deeper, the comparison to Alibaba will start to make more sense. End of the day, these large American paytech platforms are all about a single product: getting a merchant to use a plastic widget or a web integration to get paid for selling its wares. TSYS, First Data, and the others power Payments. Their success is indexed to overall commerce enabled by their devices, and the level of rents they can extract from the process. Industry jargon like "network" and "merchant acquiring" suggest that there is value in aggregating the businesses that sell stuff to consumer, and that is something worth consolidating into large corporates. So what do these merchants look like?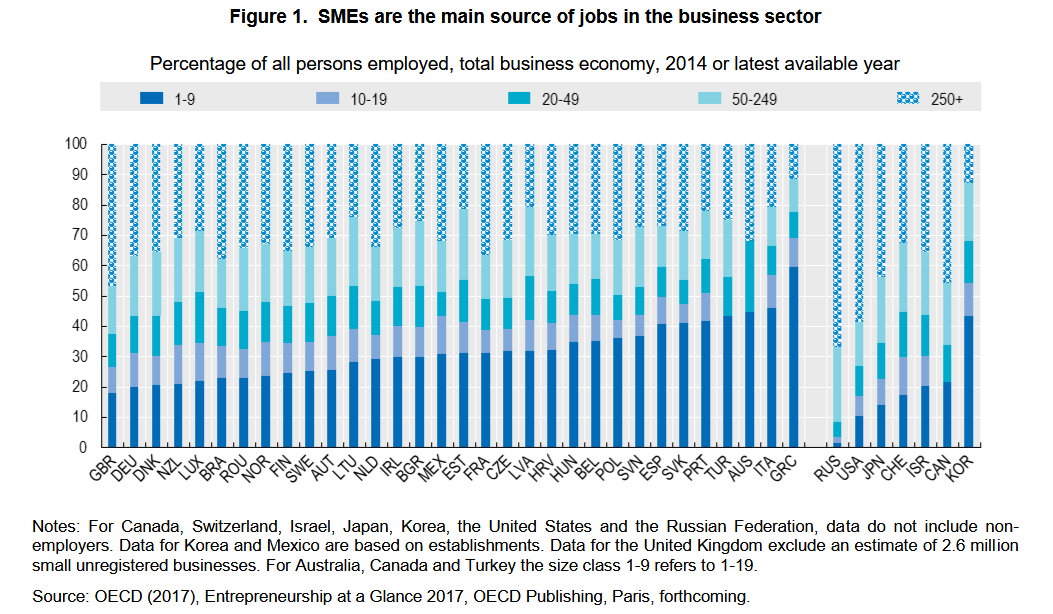 The above chart shows business types across countries, and looks at total employment by the size of the business. You can see that the US (on the right) has less than 10% of its people in 1-9 size companies, while Korea is over 40%. Americans and Russians like their companies big -- 250 people or more. In the chart below, you can also see how much of the "value" (some measure of GDP, I believe) is added by each business type. For example, the UK generates 50% of its national value from large enterprises. It appears that big companies also output proportionally more revenue, meaning that employees of large companies are on average more "productive". We know, however, that much of that productivity is captured into financial assets (i.e., shares of stock) and into capital returns rather than incomes. Thus the rising Gini coefficient across the developed world, and the political unrest that follows.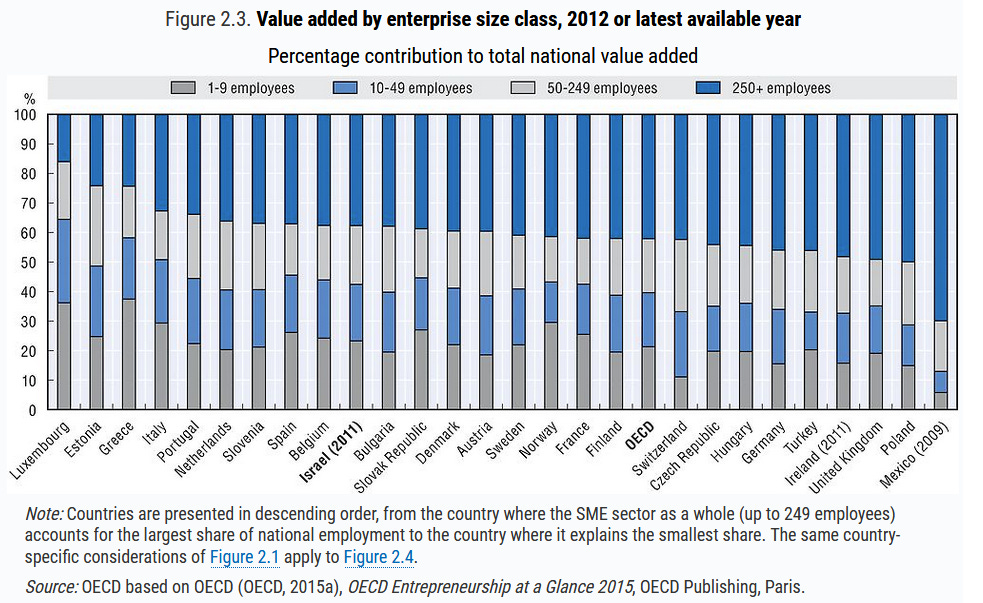 Anyway, the point is that payments processors sell the Payments product into merchants, and they can charge small merchants more, and so a platform sitting on top of SMEs (small and medium enterprises) in a country can do quite well. Some countries have a more powerful small-business entrepreneurship engine than others. The largest Western economies, on the other hand, see more dominance from big companies. I was surprised by this data -- especially because the US has a strong myth about how small businesses are its growth engine. How does China stack up in this equation?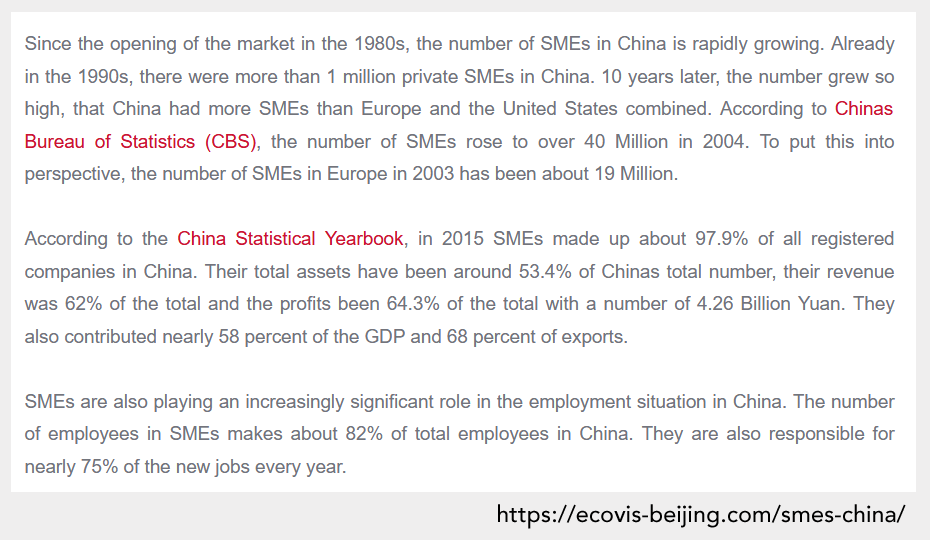 Check out the quote from consulting company Ecovis above, highlighting that SMEs contributed 58% of GDP and 82% of employment. This is (roughly) a mirror opposite from the US. For China, small business was literally the growth engine of the country. Unlike the privatization of the USSR, which took State enterprises and put them in the hands of private, mafia-muscled oligarchs, the Chinese transition to capitalism grew bottoms-up. SMEs outmaneuvered state-owned projects and banks to provide services to a hungry consumer class.
Let's circle back to Jack Ma.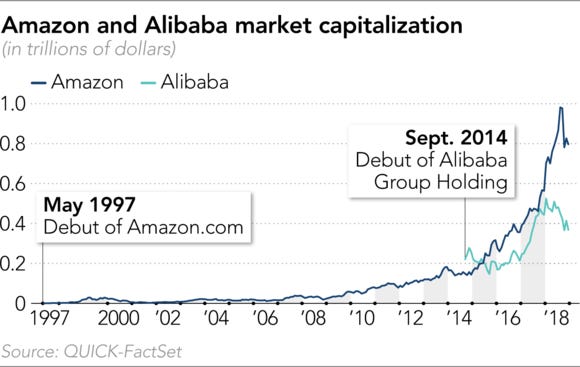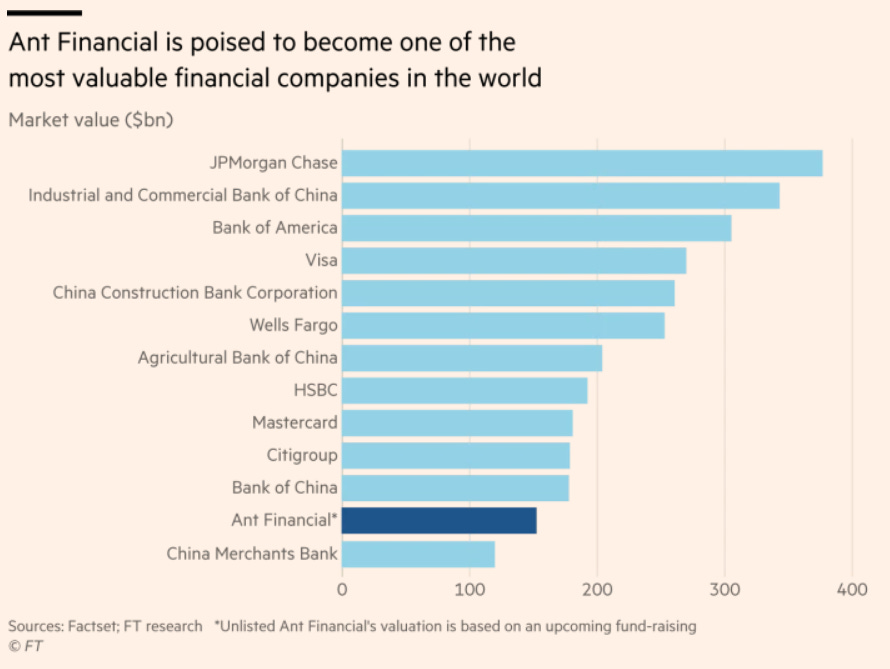 Between Alibaba and Ant Financial, Ma has created over $500 billion in enterprise value by serving the Chinese SME. His combined platform delivers not just a narrow payment enablement feature worth $20 billion (which pre-supposses a business and a product with demand) -- rather, it delivers demand for the product from global consumers, a logistics network to get the product from a local SME to its destination, a digitization strategy for small stores that includes everything from branding to accounting software, all the payments rails needed to accept money in one of the largest chat apps in the world, and the financing to get the whole thing going. If the payment terminal gives you 5% beta exposure to SMEs (a number I made up), Alibaba gives you 100%. This is the difference between finance as a feature, and a broad customer attention aggregation platform. Furthermore, to do so in a country where 80% of employment sits in small business is no small task.
Notice however, that while the economic activity is decentralized, the enterprise value of the platform is extremely centralized. Rents go to the intermediary network. We can take the same line of analysis to the American and European banking and investment industry. As technology waters hit the shores of financial services, the market share inequality within the financial industry becomes more extreme. Large banks like JPM and Goldman invest several billion per year into building and acquiring Fintechs, while regional and local players languish into the long tail. The fate of the long tail of depository and fiduciary institutions is extremely interesting. Here is some context: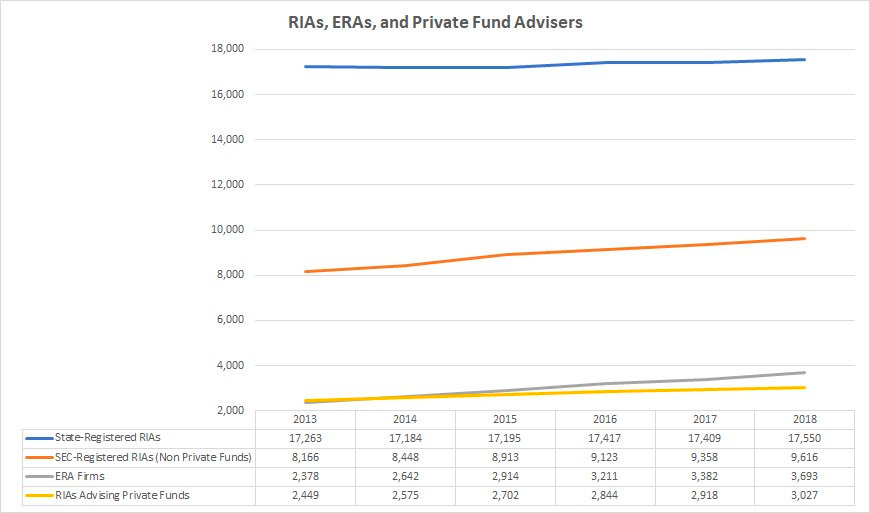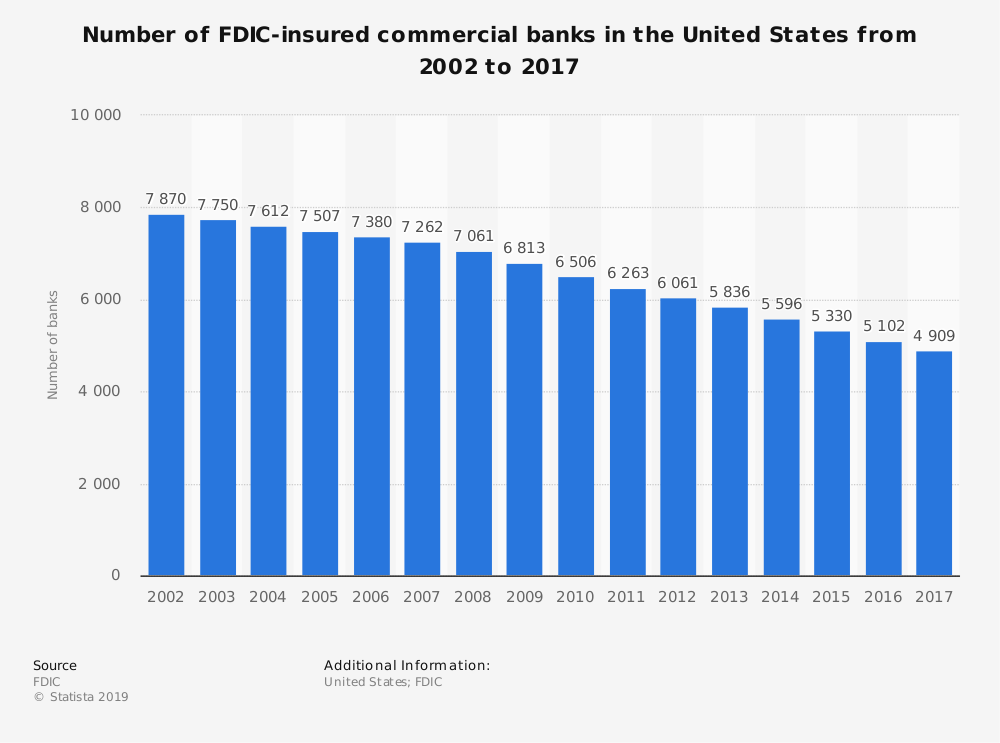 There are about 10,000 SEC registered investment advisor entities, 5,000 depository banks, and another 5,000 credit unions. That is a lot of small businesses providing financial products to their communities. If someone massive like TSYS or First Data can't do it alone and needs to scale up through acquisitions, these firms have a hard hill to climb. But they do climb it, and the primary strategy is to leverage common infrastructure like Envestnet and Fiserv, and then compete locally in customer acquisition. That will get harder as distribution moves into the phone. So what is the saving grace?
Notice that today's long tail finance aggregators focus on the infrastructure (i.e., manufacturing the product through core banking or portfolio construction or custody). They do not generate demand from potential customers for their bank clients, and this is the main vector of attack for modern Fintech aggregators. Americans like Plaid pull all the data across these capital sources, package it, and touch the consumer across a massive footprint -- now expanding to Europe. Europeans like Bud and Tink also start with the data, and then build consumer facing app features like budgeting or recommendations.
The following step in development is aggregating the capital product and facilitating account actions -- like Raisin finding you the best interest rate along the long tail of small banks in Europe, SynapseFi enabling third party product integrations, or Cambr spreading deposits among 800 different community banks. This area of competition will be a bloodbath for venture capitalists with ambitions to capture the flag. But the natural outcome of creating exposure to the SMEs of financial products is a winner-take-all platform that accrues value by controlling the user. The underlying community bank or financial advisor becomes a commodity provider of capital and investments at the cheapest cost. Would you want to be the small business or the market?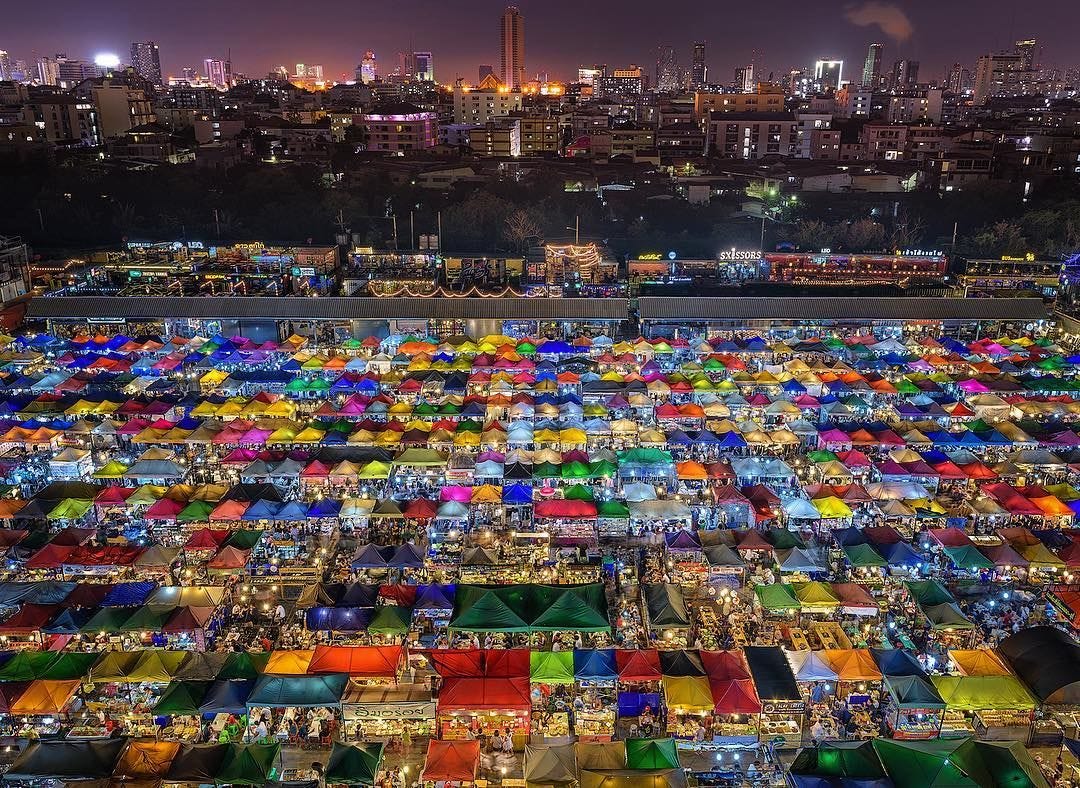 ---
Short Takes



---
Looking for more?